Why do so many producers and voice directors cast on Voxing Pro? In addition to direct and free access to top voiceover and dubbing actors, Voxing Pro provides a collaborative team casting workspace with industry leading tools that simplify casting management and logistics.
Dashboard:
The producer's homepage provides an overview of their different casting projects, conversations with actors, and promotes actors with paid Voxing Pro subscriptions. They can choose to visit actor profiles in "private" mode.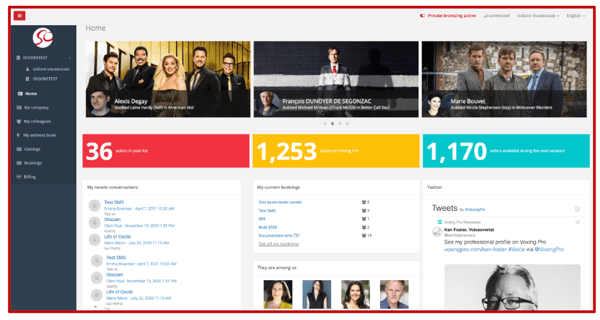 Rotating carousel of actors and their past project references
Voxing Pro Newsletter displayed
Actor "Success Stories" pinned to top of Twitter feed
Homepage "Actor News" displayed
Homepage "These Talents are on Voxing Pro" displayed
Casting Engine
Actor profiles and media are automatically integrated into our casting search engine used by 700+ producers and voice directors registered on the platform. Precision cross-search features of actor profiles and media ensure quick and efficient access to pertinent profiles and audio/video files.
Experience by Sector (dubbing, voiceover, video games, films, TV series, audiobooks, documentaries, etc.)
CASTING ENGINE PROFILE SEARCHES

Depending on an actor's subscription, profiles are presented in casting search results in this order: Fortissimo, Forte, Piano/New Talent, followed by actors with FREE subscriptions.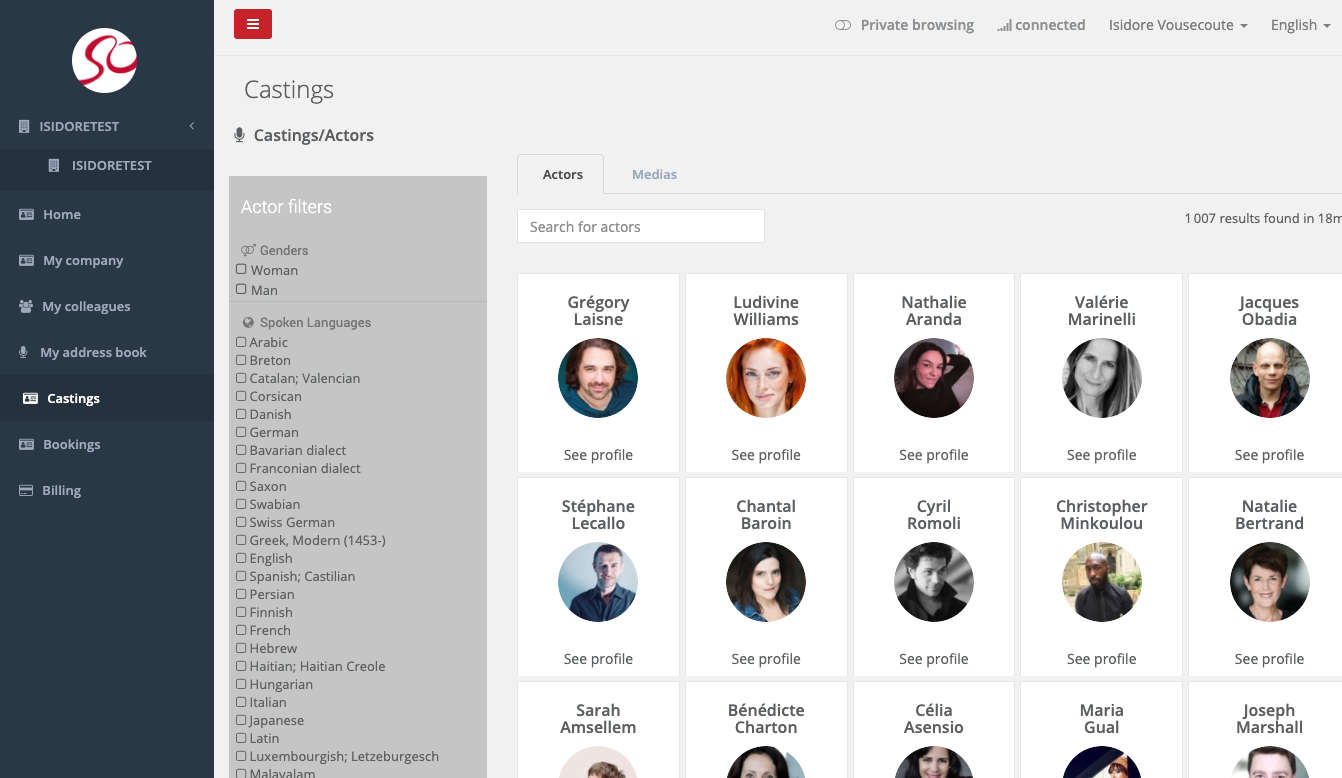 Producers can filter actors by information provided in their profiles such as: gender, language, spoken voice/singing tone/range, experience by sector (dubbing, voiceover, film, TV series, video games, audiobooks, documentaries, etc.), live experience (theatre, musicals, singing), work zones, home studio equipped, availabilities, etc.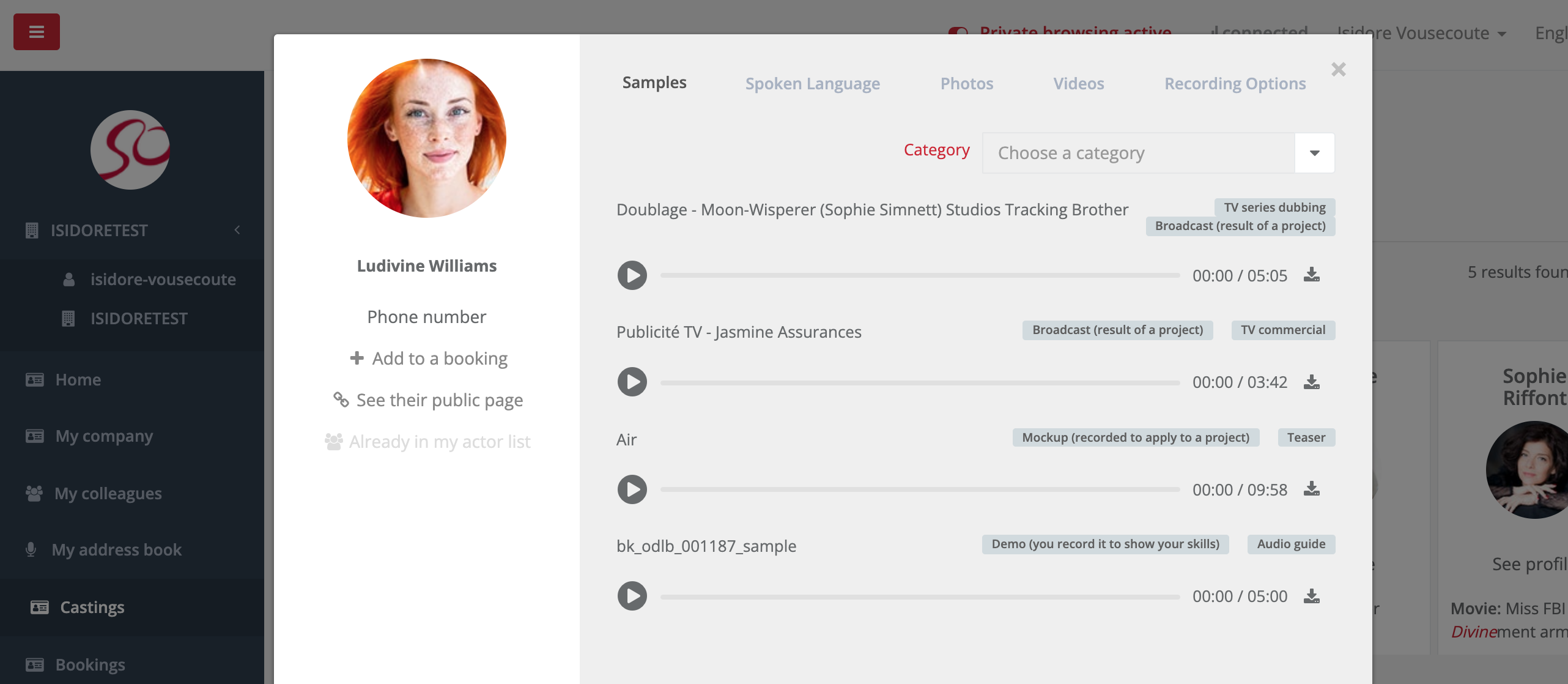 *Voxing Pro paid subscriptions allow actors to provide more details in their profiles, which means they show up in more casting search results than FREE subscribers
CASTING ENGINE AUDIO & VIDEO SEARCHES
Producers can search audio and video files directly by file categorisation, type of file, keywords, original actors dubbed/voiced, characters/roles, brand names, role type, emotion portrayed, etc.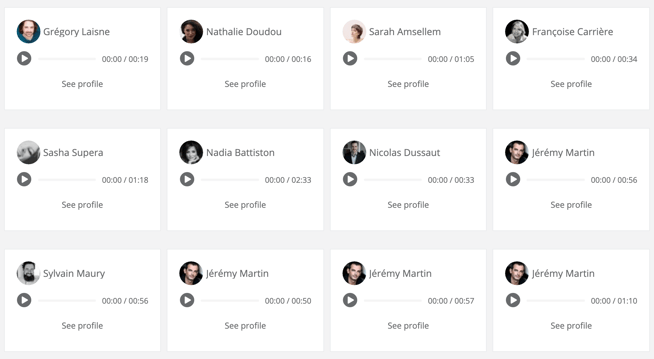 *Voxing Pro paid subscriptions allow actors to present more audio and video files in their profile, ensuring they show in more casting search results. More audio samples & videos = More views and listens.
BOOKING TOOL
Producers create and manage unlimited casting projects on Voxing Pro and can invite team members to collaborate on projects in their workspace.
They can add actors to projects directly from the casting engine and then communicate with actors via the platform. Actors receive the first message via SMS and the conversations continue via the platform, allowing producers to keep conversation histories with all actors classed by project.