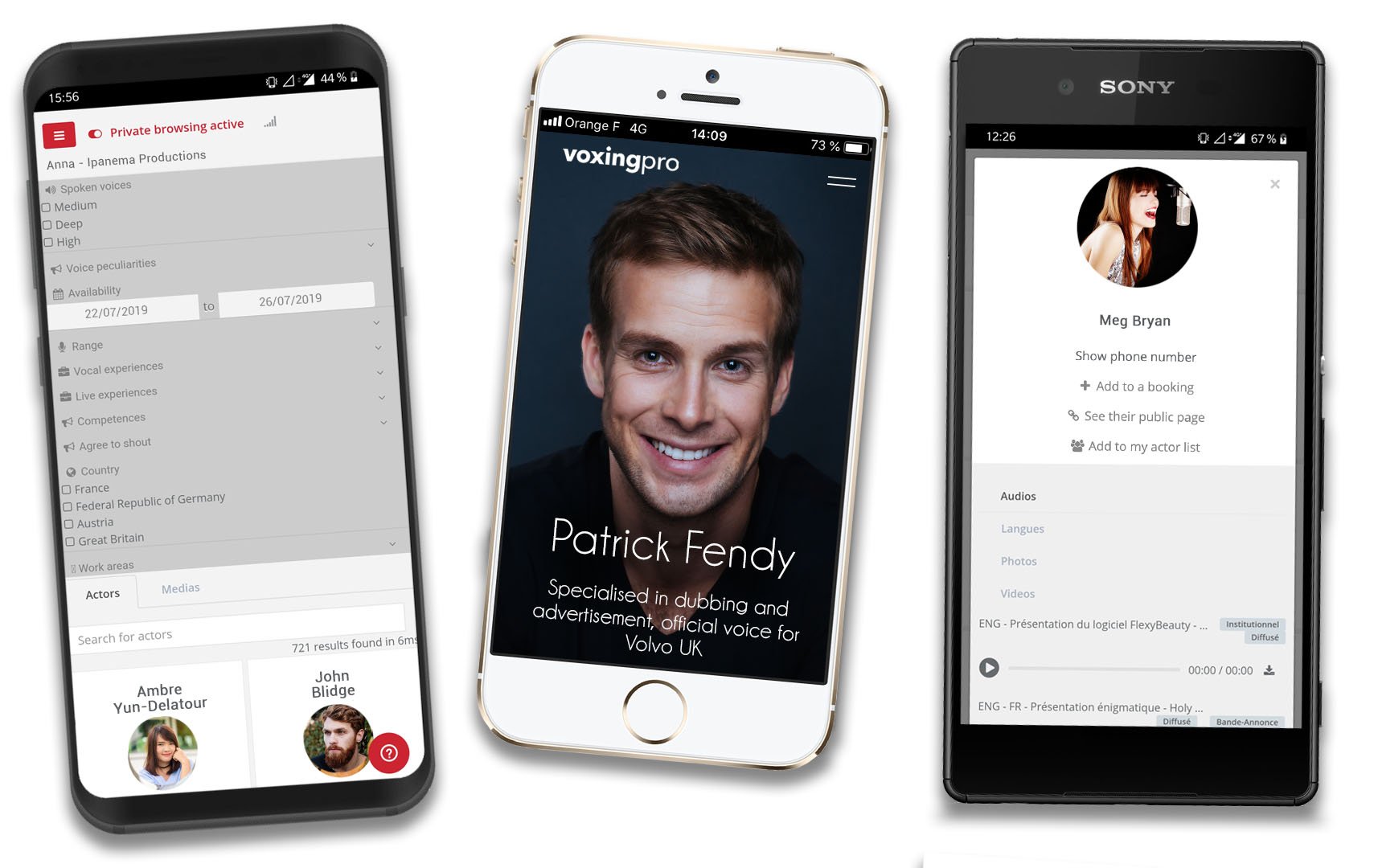 We are excited to announce the launch of our free application for mobile phones and tablets! All Voxing Pro work tools are optimised for mobile use, wherever you are : in a studio, on a work trip, in transport, at home…
Producers and Artistic Directors
All the Casting tools available on your dashboard on Voxing Pro are now in your pocket : search, save and select your voice talents without missing a beat.

Cast the best voice actors in your area, whenever and wherever you are, even at the last minute. Voxing Pro voice talents continuously update their availability calendars for castings!

And with our booking tool, you can contact them without revealing your phone number

Stop wasting time and money organising your projects : enjoy the highest-performance work tools in the voice industry — designed for you — with your needs in mind!
Voiceover and Dubbing Actors
Just finished a recording session ? Upload your latest voiceover and dubbing samples and references, manage your profile and categorise your samples so they'll be found in producers' searches from wherever you are!

Have a few minutes free? Check out your profile statistics and adjust the categorisation of your samples according to trending searches being done producers. Update your availabilities every chance you get and don't miss an occasion to get booked!

Keep your finger on the pulse of professional opportunities by keeping your professional network in your pocket! You'll receive Casting Call notifications directly on your mobile!
The app is free and available in the App Store and Google Play, currently in 3 languages : English, French and German. Download it now and start optimising your professional projects !

* Voxing Pro respects your privacy and will only use and handle your data in accordance with the European Unions privacy laws and regulations.